Learn to create a cohesive series of mini-collages in just 5 days, and its FREE!
Create 7 types of collage papers from a place of playful experimentation, and then use them to easily make a collage series that all works together.
You will expand your mixed media toolbox,
whether new to art or a seasoned artist.
All while getting a sneak peak into COLLAGE JOY, the mixed media master course available again on January 9, 2024.
Collage Kickstart walks you through 5 days
of joyful experimentation and play!
Treasure Hunting for Supplies
You already have everything you need to create a gorgeous mini-collage grid. Watching the video for inspiration, you will go on a treasure hunt to find "supplies" in your home, as well as in your current stash of art supplies.
Making Collage Papers 
Using a very limited color palette - two colors plus black and white - you will create a cohesive collection of 7 types of collage papers, including the one used in most of my collages, dimensional dots on tissue paper.
Creating Mini-Collage Series
After choosing the collage papers that make your heart sing, you will create a cohesive grid of mini-collages. By following 3 simple guidelines, you will easily and joyfully create collages that are completely addictive to make.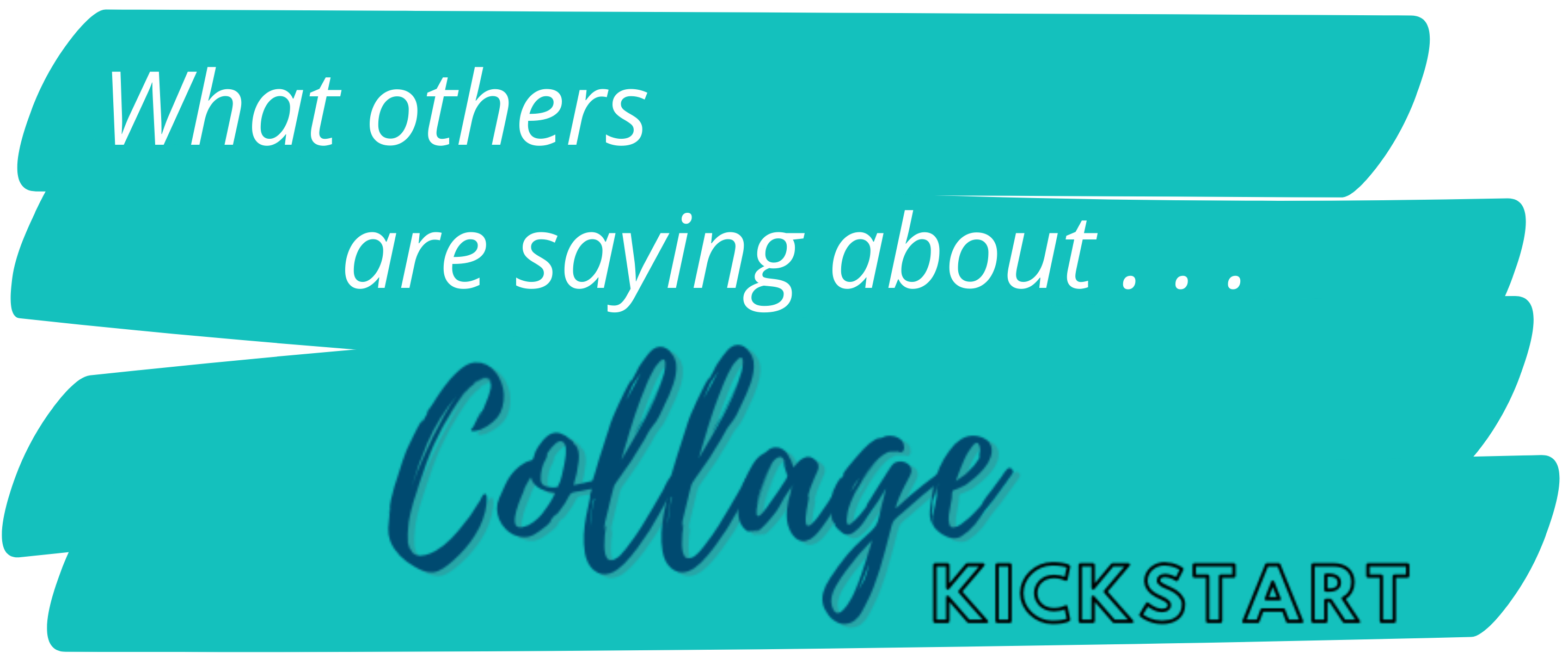 "I truly enjoyed EVERYTHING about your 5 day Collage class!!! From the instruction to the excellent filming and direction, sped up when necessary and real time when needed... you expertly captured a wonderful experience for all... Thank you from the bottom of my heart for all you have shared and being so brave!  You have inspired me that it is never too late for another beginning."    Jennifer Trujillo
"I'm new to the world of art and collage, and always wondered how people on Instagram made such beautiful collages. Your explanation and range of techniques was fantastic.  I thoroughly enjoyed all of your tips and ideas and they were really easy to follow, even for a beginner like me. I really appreciated that your lessons were brief and to the point, and you demonstrated every step, rather than just showing one technique and telling us about the variation.  You were easy to listen to - very gentle and calming."   Julie Petro
"I truly enjoyed your class. I wasn't expecting to learn new things and be so inspired, but I absolutely did and am!  I loved the pace of the class and your teaching style.  You're a great teacher. Thank you for your generosity!"   Robin Bowers
"Collage Kickstart was just what I needed.  I was stuck in the same old techniques, and a little bored. All of the stenciling with new products like joint compound of all things, was so much fun.  And you were right Cat, it is absolutely addicting.  I now have a huge pile of papers I created alongside you that I can use for my own collaging.  Your teaching style is simple and comfortable, no overwhelming supply lists... Thank you for this awesome experience".   Peggy Freedman
I like your process of working in stages - the foundation, colors, textures and then the finishes are lined up and ready for the "job site". It feels like being the interior designed for a new neighborhood.  I have thoroughly enjoyed watching you and listening to your voice build in energy and enthusiasm as you create... I deeply appreciate your time and direction.  I leave with head and heart filled with inspiration and a readiness to begin.   LornaS
"I did not think I would gain that much from this class... I had done collage years ago and did not expect to learn anything new.  But I was wrong!  This was a great class, with lots of new, exciting ideas and techniques to try!  A lot of "free" classes have been a disappointment to me, but not this one. Thank you Catherine!"   Cheryl Archer

The best part of this FREE workshop is that it's not only a stand alone course where you'll learn many mixed media techniques, but its also a jumping off point for COLLAGE JOY, the mixed media master course available again in early 2024.. If you choose to continue creating with me after our 5 days together, you will continue to expand your collage tool box further than you dreamed possible. 
When you join COLLAGE KICKSTART, you get . . .
5 self-paced lessons that show the entire process of creating a cohesive mini-collage series




Instruction on how to create 7 types of collage papers that all go together

Foundational skills to support your journey through the COLLAGE JOY workshop if you choose to continue learning with me

Lifetime access to the 5 lessons of free content 

Knowledge and skills you can use time and again in your mixed media art.
Hi, I'm Catherine!
As a collage artist for over 25 years, my intention is to create from a deeply connected and joy-filled place, and inspire you to do the same.  This 5-day workshop reflects that intention as we quiet our minds and allow the art to be created from the highest part of who we are. I would be honored if joined me in taking this soul-fueled art adventure together!

How long to I get to keep Collage Kickstart?
You have unlimited LIFETIME access to this workshop, which means for as long as Catherine Rains, LLC is in business running courses.
What supplies do I need?
You probably already have what you need to create stunning collage papers and mini-collages. Watch the video on Day 1 for inspiration on what to gather in your home and art supply stash. 
How do I view the lessons?
You can access the lessons and video from most mobile devices and computers with high speed internet. The videos will be hosted online on an easy to use platform called Simplero.  
When does the workshop begin?
This course is ready to watch as soon as you sign up. 
Once I sign up, when will I receive my login?
You will first receive a confirmation welcome email as soon as you sign up along with login instructions. You will also receive a random password for the classroom site. Once you are logged in, you will be able to go into your settings and change the password to your liking. 
Will I be able to watch all 5 lessons today?
One lesson will be emailed to you each day for 5 days after sign up.  However, after 5 days have passed, you will have access to all the lessons and you can rewatch them in any order you choose.
Your FREE workshop is waiting!